Sizing Guidelines eBook
3 Step Guide to Sizing Your Cooling Enclosures
Ensuring your air conditioned enclosures and thermoelectric AC systems are properly sized is a key component to success. What's more important is understanding why. EIC Solutions packaged this process into a simple three step guide to ensure your applications are sized properly -- and how this impacts the success of your air conditioned enclosure.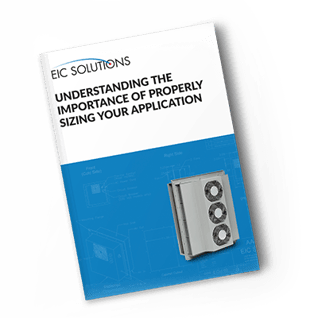 In this eBook we will cover:
How using accurate maximum and minimum ambient temperatures is a critical sizing component
How to identify key enclosure specs required for sizing your application
How to choose a safe, realistic maximum internal temperature and its impact on cooling requirements
You'll also access insider tools like the equation below to help calculate how to properly size your unit. Inside the eBook, we supply you with a key to each variable in the equation.
If you already know your requirements, fill out our Air Conditioner Sizing Request Form and our engineers will determine the proper size (BTU cooling) and type of air conditioner for your application.