The Challenge
When Go2Power faced developing a lighting system that could withstand extreme conditions of desert-like heat in the southern United States, they reached out to EIC Solutions to help with an enclosure and cooling system that would protect critical safety lighting.
The need for dependable, customizable solutions was obvious and the lighting system was paramount to ensuring protection and safety in remote locations. So, EIC engineered a highly customized solution that ensured the durability and lifespan of the lighting system.
"We needed an air conditioner and enclosure that were very, very durable - durable enough to withstand the harshest, driest of environments. EIC is not only a local, US-based company, but also went above and beyond to work with our team on customizations that met our exact standards and specifications."

Guy Teipel, Go2Power
Approach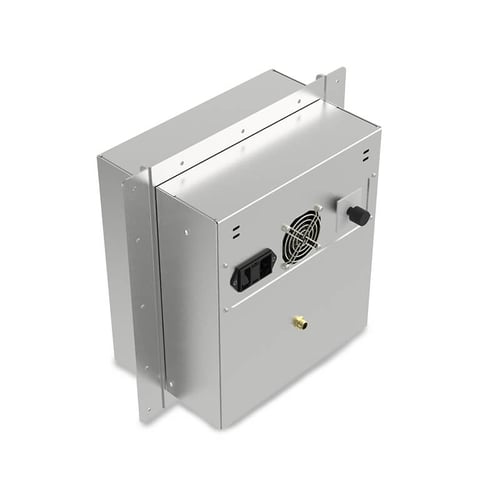 EIC's experience with projects that require flexible design and minimal maintenance despite harsh remote environments made this partnership a great fit.
The application of the system for outdoor emergency lighting meant the enclosure and air conditioner needed to meet specific requirements, including NEMA 4X configuration, stainless steel finish to protect against heat exposure, and customized mounting hardware, shelving, and plates to support the lighting equipment structure. Plus, EIC had to take into account the criticality of maintaining lower temperatures to optimize battery life for the equipment.
EIC worked closely with the Go2Power team both remotely and in-person - to develop a customized Protector SeriesTM air-conditioned enclosure and ThermoTECTM 800 BTU air conditioner that would support the emergency lighting system and not only meet regulatory requirements but also extend operational times.
Results
EIC's thermoelectric air conditioning system and customizable enclosure have been implemented and continue to support the emergency lighting system put in place by Go2Power.
In a world where power interruptions can disrupt lives, property, and safety, EIC understands the need for customizable, reliable solutions that require low or no maintenance and can withstand even the harshest of conditions from Mother Nature.
" Our priority is ensuring our partners' projects are successfully implemented. With our Protector Custom Series, we're able to manipulate the structure to fit what is needed and we'll work closely with your team, like we did with Evenlite and Go2Power, to meet requirements and and exceed requirements and expectations."

Josh Liegel, CEO, EIC Solutions
---
EIC Solutions, Inc. specializes in the design and manufacturing of thermoelectric cooling systems and enclosures across industries, applications, and environments.
We'd love to discuss your project needs. Contact us to learn more about our solutions or to let us know how we can help you.