The Challenge
When C.V. Lloyde Audiovisual won the opportunity to build a sound system for Clemson Memorial Stadium, home to the 3-time NCAA national champion Clemson Tigers football team, they knew exactly who to turn to for the custom rack enclosure to protect and cool their sophisticated audio gear - EIC Solutions.
Commercial A/V equipment produces significant heat but amplification systems at this scale take that to the next level. EIC understood how big the system was, recognizing Clemson Memorial Stadium seats over 81,000 fans, and hosts college football games, Premier League soccer matches, concerts, graduations, and other university activities.
"We can't do these projects without the support of our partners. The professionals at EIC Solutions took the time to listen to our needs and build a solution that protects our gear. The solution is powerful enough to handle the significant heat load from our amplifiers and we love how maintenance-free it is." C.V. Lloyde Audiovisual
Approach
EIC was confident consulting on the project due to previous experience supporting high profile projects in major sports arenas, including the New Meadowlands Stadium (MetLife has since acquired the naming rights for the venue) and SoFi Stadium.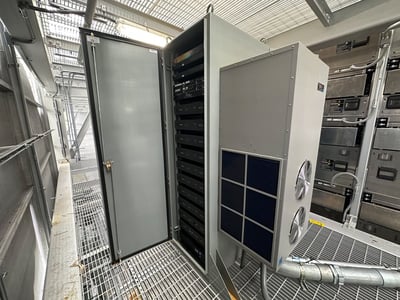 In the midst of supply chain disruptions and on a tight deadline, EIC worked with C.V. Lloyde to construct custom enclosures to protect and cool the sophisticated audio equipment used in the stadium's scoreboard and sound system. Dubbed "Dabotron" after Clemson football coach Dabo Swinney, the video board measures 7,000 square feet and is paired with an 80,000-watt sound system.
The system CV Lloyde spec'd includes (20) LabGruppen 4-Channel D Series Amplifiers and QSC Core 110f Main DSP, which need to be protected and kept cool. To house the gear, EIC manufactured two 19" Custom Rack Enclosures each cooled by a 27,000 BTU compressor based air conditioner.
"The CB Series 27,000 BTU Compressor-Based Enclosure Air Conditioner is the clear choice when you need ultimate system protection. It's nearly maintenance-free and offers enormous cooling capability that can be configured to your specific installation needs. " Josh Liegel, CEO, EIC Solutions
Results
In this fast moving project, EIC's manufacturing team worked with the project leads at CV Lloyde to go from consultation and quote to final delivery in only 49 business days - no small feat as supply chain disruptions introduced significant risk during manufacturing.
EIC's Compressor-based Enclosure Air Conditioners have been continuously protecting CV Lloyde's equipment since the new system was launched at the beginning of Clemson's season home opener against Furman on Sept. 10, 2022. Throughout the 2022 season and for events beyond, UL certified system, has required minimal routine maintenance. "You just need to change the filters monthly and this system will continue to perform day-in and day-out. We're like the pads the players on the field are wearing. We're not the star of the show, but we're here constantly doing our job to protect them." Liegel said.
Conclusion
EIC Solutions, Inc. specializes in the design and manufacturing of thermoelectric cooling systems and air-conditioned electronic enclosures for a wide range of markets, applications, environments, and by a diverse client base who rely on our solutions to safeguard their critical electronics.
We'd love to discuss your project needs. Contact us to learn more about our solutions or to let us know how we can help you.